Current Exhibitions:
2021-2022 North Seattle College Juried Student Art Exhibition
May 16 - June 16, 2002
The NSC Art Department and the NSC Art Gallery present a showcase of artwork by students from the last year.  Until May 31st voting will be open for People's Choice Award, so please visit the NSC Art Gallery to see the exhibition and cast one vote for your favorite piece.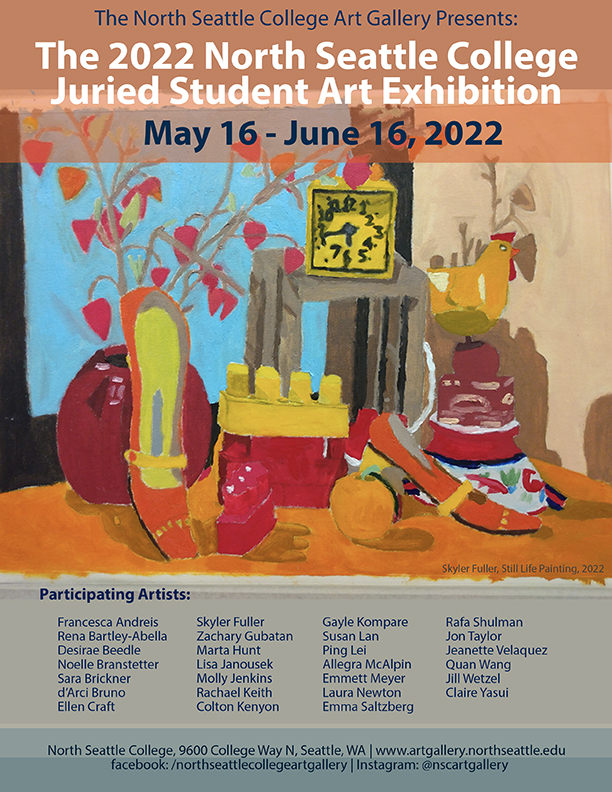 ---
Extracurricular lll
March 14 - April 28th
Extracurricular features the work of the practicing Artists who comprise the North Seattle College Art Department. This exhibition highlights current work by this incredible group of makers. Our art faculty and techs create work that is not only inspiring to the community in which live but serves as inspiration for the students they teach. Their individual artistic practices are central to their teaching curriculum and in turn the experiences they have in the classroom greatly impact their work. Do not miss this chance to see what our outstanding group of teaching artists has been working on when not in the classroom.
Participating Artists and their Classes/Roles at NSC:
Ling Chun – Ceramics
Emily Gherard – Drawing
Michelle Kelly – Painting/Drawing
Amanda Knowles – Printmaking/Drawing
Barbara Knuth – Jewelry and Metalsmithing
Paul Komada – Digital Art
Kelda Martensen – Printmaking/Drawing/Painting
Daphne Minkoff – Painting
Joaquin Palting – Digital Photography
Paula Rebsom – Sculpture/Ceramics/2D and 3D Design
Aaron Scofield – Jewelry Tech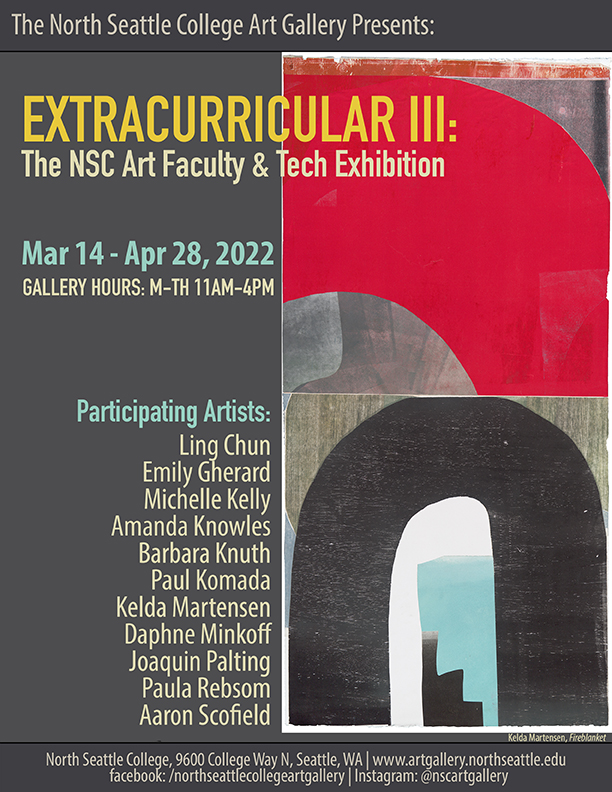 ---
The Sun, The Moon, & Stars
January 31 - March 3, 2022
The sky holds intrigue. During the day when the sun reigns we can believe that we are the center of the universe. Once the sun sets and we gaze out into space filled with millions of other stars and planets we see our insignificance. All cultures honor these heavenly bodies through art, poetry, films and song. We all stand side by side looking out from our place in the universe and marvel.
In this show seven artists look into space for their motivation – seeing it through a telescope, watching the patterns that the stars make as they traverse the sky, tracking time, creating a vision of history and the future – all read into the sky just above our heads.
Participating Artists:
Daniel Carrillo
Rebecca Cummins
Louise Fisher
Patricia Lagarde
Kirk Lang
Nora Pauwels
Anna Von Mertens